Hive South Yorkshire workshop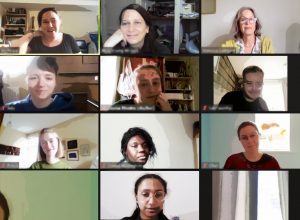 I have just enjoyed running a workshop for Hive South Yorkshire Young Writers Network. It is an excellent project for emerging writers, with former winners of the New Poets Prize among its members. It was a privilege to work with talented young poets, some of whom kindly sent me feedback.
Vanessa Lampert's workshop was such an incredible experience. All exercises were varied in their topic and form, and Vanessa gave such detailed and helpful feedback. I left with some promising drafts feeling more confident, with an awareness of how to make my poems stronger and more alive. It was as if they were budding off the page! Also was very lucky to hear some of Lampert's own, beautiful poetry. A was a space where we could be vulnerable and honest through our words. Luke Worthy

Ness is a fantastically experienced and approachable poet whose choice of poetry and theme for our workshop was unique and thoroughly interesting. I loved learning some simple but innovative writing ideas, such as not worrying about writing everything down first and then 'sculpting out' a poem from the hunk of ideas. I also loved the idea of poetry being like compost, the good stuff is underneath the pile of peelings that have been dwelled on over time. As a poet novice that tends to wait for the creative flow to hit me (which is never often enough!), these two thoughts are already helping me to be braver at putting pen to paper, and enjoying the process of writing. These gems show what a great studier of poetry Ness is and her quick and tailored feedback was much appreciated – thank you Ness! Ivy Knapp

Thanks, Ness, great session. I enjoyed the exercises, and two of them sparked off a piece that I want to develop further into a poem, especially the Love Letter to a place. Also great to hear a poem by Ness at the end.